Yes, that's right. You can create your own box subscription web site using this plugin!
This plugin integrates your wordpress site to Subscreasy services, so that you can create your own box subscirption web site and receive recurring payments.
Configuration
After you install subscreasy-wordpress-plugin, go to Settings / subscreasy, to configure your plugin.
Here, you see several parameters which is required by Subscreasy WordPress plugin. Enter your Subscreasy API key, in this form. You can fetch your Subscreasy API key from Subscreasy Dashboard.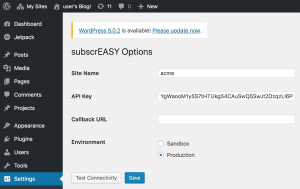 Click Test Connectivity and ensure that your wordpress instance has access to your Subscreasy account.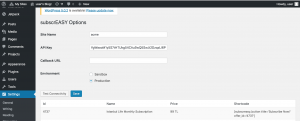 Supported payment providers are:
Source code of the plugin can be found in https://github.com/subscreasy/subscreasy-wordpress-plugin